Words Adorned released on Novana on July 9th.
World-premiere recording of Clarinet Concerto: Adrift on the Wine-dark Sea recorded by Kinan Azmeh and the Deutsches Symphony Orchester coming soon through the Dreyer-Gaido Label  or through NaxosDirect.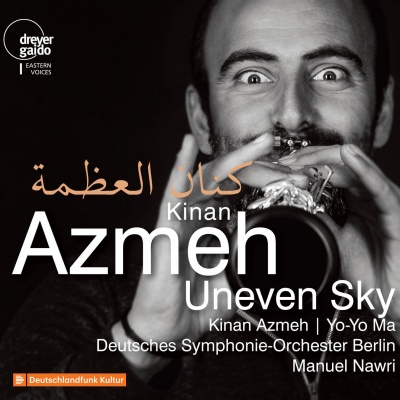 Awakening Beyond • Produced/composed/arranged by Kareem Roustom
Details about Awakening Beyond here
Order the CD or download at:
Amazon • Exlibris • CD.CH • iTunes • GooglePlay
WORDS ADORNED: THE CONCERT, featuring newly commissioned works, Embroidered Verses by Kareem Roustom and Of Nights and Solace by Kinan Abou-afach, performed by The Crossing, soloist Dalal Abu Amneh, and Al-Bustan Takht Ensemble.
A limited edition of the album with this beautiful engraved box is now available for $25. Purchase your copy online here.
Budrus – Original Score by Kareem Roustom is now available online. Featuring Kinan Azmeh – Clarinet, Hanna Khoury – Violin & Viola, Omar Al-Musfi – Arabic percussion, Ramsey Roustom – Drum kit, Jim Robitaille – Guitar, Kareem Roustom – Oud & Buzuq and others.
Encounter Point – Original Score by Kareem Roustom. Available at iTunes and other online distributors.
El-Zafeer Ensemble. A fusion of jazz and Arabic styles featuring original compositions by Kareem Roustom and covers of John Coltrane's "Naima" and Olivier Messaien's "O' Sacrum Convivium."