Aleppo Songs for solo piano is a reflection on a number of urban folk songs from Aleppo, known as qudud, as well as original material.  All profits from sheet music sales as well as royalties generated from 2016 – 2018 performances will be donated to Doctors Without Borders to support their work in the Middle East. Other aid organizations will also be considered as this is an ongoing project.
Aleppo Songs (2016)
Instrumentation: Solo piano
Duration ca. 15′
I. How beautiful the light of the rising sun
II. Antiochian hymn
III. Oh people, leave me to my sorrows
IV. The silenced guardian
V. That's it! I intend to leave you
This work is currently in progress (very close to completion) but will be available in early 2017.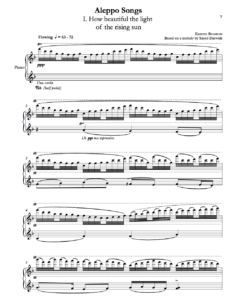 Watch here as pianist Riyad Nicolas gives an impromptu reading of this first page from the first movement of Aleppo Songs.