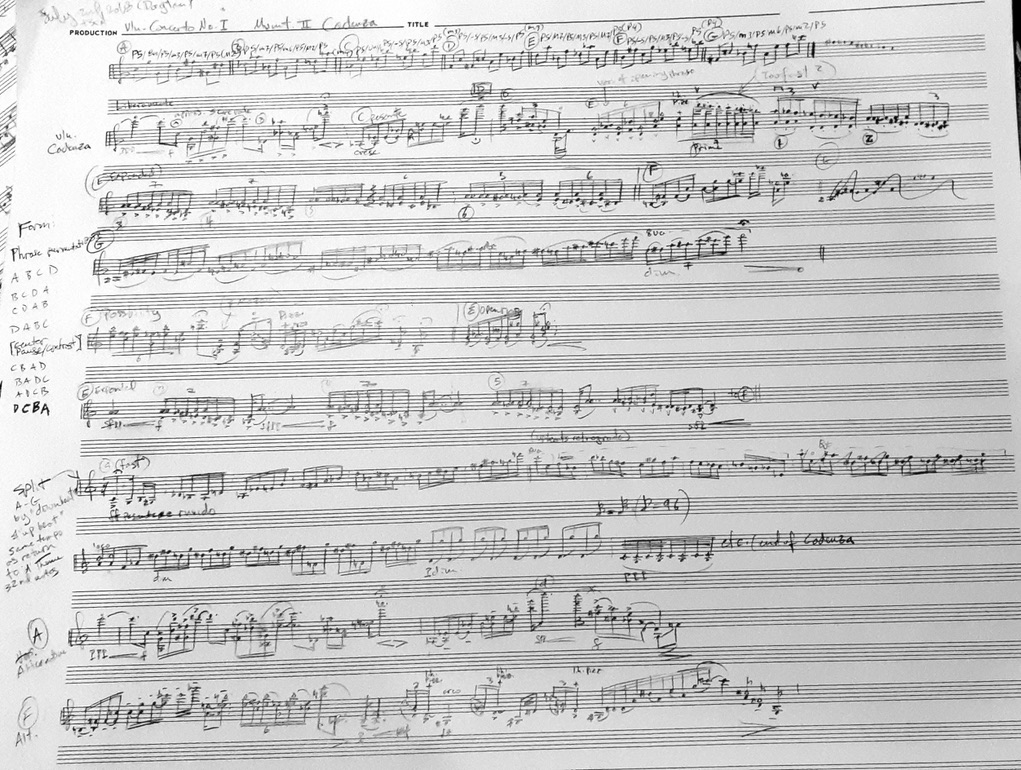 Current Projects
2023 to 2025
The next 18 months or so promise to be intense with a number of commissions. These include:
• There Will Come Soft Rains for mixed chorus, solo French Horn, and string orchestra: With poems in German (Andreas Gryphius 1616 – 1664), and English (Sara Teasdale – 1884-1933), both texts express anti-war in their sentiments though in different ways. I am looking forward to writing extensively for a solo horn part and I already have plans for creating a suite for strings and horn.
• Dance project based on Shakespeare's The Tempest: Though details of this work as still coming together, the score will be 60 minutes in duration, and will be written for a chamber group of four players, and a tenor. The premiere is currently scheduled for May of 2025 in the U.K.
• A trumpet concerto. The premiere is currently scheduled for May of 2025 in Germany.
• Ḥawāsh for string orchestra commissioned by Palaver Strings. Details here.
• Syrian Folk Songs for string orchestra, also commissioned by Palaver Strings.
---
The Clustered Vine – Songs of Love, Loss & Remembrance (January, 2023)
Using the theme of wine and its many poetic meanings as a point of departure, The Clustered Vine is a meditation on the grief of loss, and the memories that help us to live more at ease with such loss. Though commissioned in memory of a dearly beloved spouse and mother, this work was also inspired by the feelings of loss that I and so many experienced during the pandemic lockdowns and the continuing uncertainty as the world tries to move forward.
Scored for mezzo-soprano and a medium sized orchestra the texts in this five movement work are from Euripides's Baccahe, the 14th-century Andalusian Sufi poet Al-Shushtari, Rainer Maria Rilke, the early 20th-century Belgian poet Marie Nizet, and the 7th-century Chinese poet Li Po.
The world-premiere is scheduled for August of 2023. Details will be announced early in 2023.
---
2022 and earlier
World premiere of Clorinda Agonistes (Clorinda the Warrior), a new work for mezzo soprano, tenor, string quartet and electronics with dancers. Co-commissioned by the London based Shobana Jeyasingh Dance, the Sadler's Wells Theatre, in partnership with the Royal Philharmonic Society with funding from the RPS Drummond Fund, the this new dance/opera hybrid is a response work to Monteverdi's opera Il Combattimento di Tancredi e Clorinda, and re-imagines Clorinda as a contemporary refugee in the west living in exile. Clorinda Agonistes will receive its premiere at The Grange Festival in July and Sadler's Wells and Lowry in the autumn, with a tour to follow. Details here.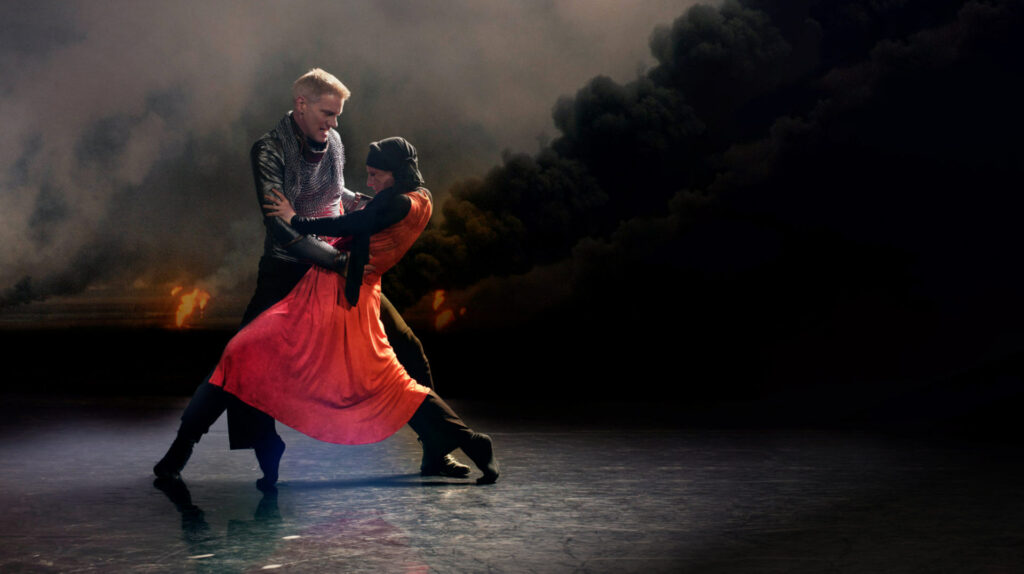 Sostenere for solo violin and string orchestra: This Italian word can mean to support, to hold up or to sustain. All three meanings are apt as this work, though pensive, and contemplative, is written to celebrate violinist Jesse Holstein's 20th anniversary as a teaching artist at Community MusicWorks of Providence R.I. This work is mostly completed, but I'm taking a step back from it for a week or so, after which I'll finalize it and prepare score and parts for the April 2nd premiere which I will conduct.
Piano Etude: A two minute work for piano? Sure, no problem. This will be the kind of work that I'll fret over for weeks! I'm looking forward to working with the excellent pianist, Jihye Chang. Stay tuned for details about the Boston world-premiere next year.
Breviary for solo cello: I completed this eight minute work a few weeks ago for Boston based cellist Leo Eguchi, who will give solo recitals this spring on a program featuring all newly commissioned works that meditate on the theme of a home left behind. Like my duo Gnizo, I turned to Syrian Orthodox church hymns for inspiration.
Strange Sea: New work for orchestra commissioned by the Malmö Symphony Orchestra This work has been completed and delivered to Malmö for a September 2022 premiere. This work is influenced by the poetry of the Swedish poet Edith Södergran & Palestinian-Syrian-Swedish poet Ghayath Almadhoun ) as well as the history Malmö as a port for refugees (since WW II until the present). Though abstract in its construction, Strange Sea is structured on the science of waves, specifically the study of wave spectra. My hope is that the listener won't have to think about any of the above but can feel the progress of a grand and difficult journey until reaching safe harbor.
Gnizo Duo for Violin and Percussion: This will be a ten minute work for dear friends that I'm very much looking forward to. The inspiration for this work will come from listening to Syrian Orthodox Church Antioch Liturgy hymns. These were recorded in a church that I used to visit as a child with my family. The work that I will write for my friends will not be religious, but, I suppose, spiritual and reflective on memories of a time and a place long gone.
Violin Concerto No. 2: with might and main – Commissioned by the Dallas Symphony Orchestra for the DSO's principal second violinist Angela Fuller-Heyde. This work was premiered as part of the TEXAS INSTRUMENTS CLASSICAL SERIES April 29, 30, May 2021. GEMMA NEW conducted ANGELA FULLER-HEYDE violin.
I completed composing this work in early June of 2020 having begun it in November of 2019. The second movement was composed first and it is a very personal expression. The third and last movement was composed next and it is more reflective at the broader world. The first movement was composed last and is very much reflective on the COVID infected world as well as the righteous swelling of anger at systematic racism in the US and beyond. None of the three movements have titles but each expresses deeply felt emotions which I still need to think about how to put into words. The sub-title, with might and main, is a tautological phrase which means 'with great vigor' or 'with as much force as possible.' One online example of the use of this phrase was "They shouted with might and main but nobody came to rescue them". This phrase really hit the spot.
Ice, Wind, War & Spring (for choir and orchestra) – Commissioned by the Württembergische Philharmonie in Reutlingen, Germany. Duration will be circa 18 to 20 minutes. The text is in French (Antoine de Chandieu), English (Walt Whitman) and German (Rilke). This work meditates on the 75th anniversary of the end of World War II and gives voice to the civilian victims of war, the foot soldiers who fought and have come to some sort of reconciliation, and as well as the eternal hope that humans look for in the renewal of the life. This work will premiere on January 12 & 13, 2020 in Reutlingen, Germany.
Clarinet Concerto: Adrift on the Wine-dark Sea – Composed for the CD project of clarinetist Kinan Azmeh and recorded by Kinan and the Deutsches Symphonie-orchester on May 2nd & 3rd 2018 in Berlin. The editing is complete and the CD will be released later in 2018 on the Dreyer-Gaido record label. The world-premiere concert is currently being organized. More details here.
Violin Concerto No. 1 (for violin and chamber orchestra) – Commissioned by the Daniel Barenboim Stiftung for violinist Michael Barenboim and the Pierre Boulez Ensemble. This work has been completed and is currently in the score and parts formatting stage. Premiere on March 6, 2019 in Berlin at the Pierre Boulez Saal. Details here.
Hurry To The Light (for treble chorus and strings) – A choral cycle of the women in The Odyssey of Homer, as translated by Emily Wilson. Commissioned by A Far Cry and the Lorelei Ensemble. Premiere on May 17, 2019 in Boston at Jordan Hall. Details here.
Turn To The World: A Whitman Cantata (for choir and large orchestra) – Commissioned by the Grant Park Music Festival, in Chicago. Premiere on June 14th & 15th 2019. Duration will be circa 15 minutes. The text is by Walt Whitman and focuses on issues of social justice, corruption and democracy.
There are some smaller chamber works that I hope to complete in between (6 miniatures for solo viola, and completing the Soliloquia series for piano solo) and a few more large work projects further off in the distance, but they are still in the formative stages. However, the above will keep me busy for a while.